Book a Flight
Wings for All® is Coming to AVP!
---
The Arc of NEPA has announced that Wings for All® will be landing at AVP on September 21st! Wings for All® is an airport rehearsal program designed specifically for individuals with Autism or other intellectual disabilities. Click here for details.
My AVP Airport Loyalty Program
---
A rewards program that allows you to earn points when you park at AVP. Click here for details.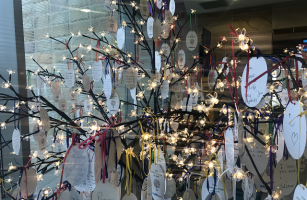 The Wishing Trees at AVP
---
The Wishing Trees are places where people bare their souls and reveal their deepest wishes on pieces of paper hung from their branches. Located pre- and post-security. Pick a color of your choice. Turn it over and fill it out; giving well wishes is what it's all about!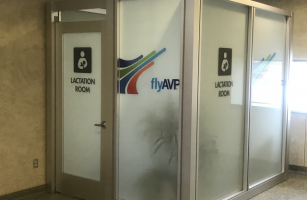 Lactation Rooms
---
Located on the second level of the Terminal Building. One is located outside the Administration Offices, while the other is located past the Security Checkpoint near the escalator to Gates 1 and 2.
REAL ID
---
Beginning October 1, 2020, you must have a Real ID compliant driver's license of Passport/Passport Card to board domestic commercial flights. Click here for details.
(Red) Tails Pet Therapy Program
---
AVP has started its new (Red) tails Pet Therapy Program. The (Red) tails will enhance the customer service experience at AVP through interactions with their certified therapy dogs. Click here for more information.
TSA Pre-Check Enrollment
---
A temporary enrollment center will be located at AVP, in the Airport Board Room, from September 9-13, 2019. Hours will be Mon-Wed (9 AM-1 PM & 2 PM-6 PM), and Thu-Fri (7 AM-11 AM & 12 PM-4 PM). This is your best chance to avoid driving for hours to another enrollment center. For more details,... Read more »
Lucky's Craft Food & Drink
---
Great food and a full-service bar right at the terminal level. Grab a quick bite before you enter the security check point.
Northeast PA News & Gift
---
Northeast PA News & Gift is located adjacent to Wings Restaurant & Bar on the second level of the Terminal Building.
Automatic Teller Machine (ATM)
---
A fast, convenient way to grab some cash without ever having to leave the comfort of the terminal.
Information Center
---
Get helpful information about local events, restaurants, attractions, hotels... and more.
Meditation Room
---
This room provides a collection of holy books, sacred writings, and prayer books for use by guests of the airport. People of all faiths are welcome and encouraged to use the room for quiet meditation.
Free Wireless Internet Service
---
Enjoy FREE wireless connection service anywhere inside the Joseph M. McDade Terminal Building.
Mailing Services
---
USPS and FedEx have mailing centers located near the Baggage Claim Area.
USPS Pickup: 9:30 AM, Mon-Sat
FedEx Pickup: 5:30 PM, Mon-Fri
Barry J. Centini Conference Room
---
Available for rental through the Administrative Offices. For additional information, including reservations and rental fees, please call 570.602.2000.
In 2019 we're committed to rising above.
The Wilkes-Barre/Scranton International Airport has made a commitment to our community, our employees, and our customers to elevate the airport experience. We're investing time and attention to make AVP soar in the eyes of all we serve. Sincerely, Carl R. Beardsley, Jr. Executive Director